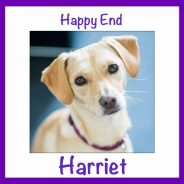 Do you remember Harriet?
Harriet was rehomed in 2015, after she had found a space in a foster home in Germany.
She lives together with another dog and is allowed to go with her mommy and her best buddy to work in the office.
Both dogs are not only visually similar, they became best friends and have a lot of fun together and also rest together paw by paw in their baskets. For knowing: Harriet is the brighter dog.
From the little girl (you can see the little Harriet as she was laying in the cat basket), who had a lot of nonsense in the head and was full of power has become a very brave, balanced and relaxed girl.