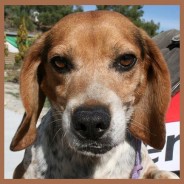 Buster was born approx in January 2011 and hs high to shoulder is 45 cm.
Buster was thrown over the fence of a shelter, that was in January 2014. He was very scared and it took some time to catch him. He had an infected wound beneath his tail, someone shot him in the butt. The X-ray at the vet revealed that he has six more bullets in his body.
Buster had an operation where his wound was cleaned.
In this operation the bullets should be removed, but these could not be found. Unfortunately, the shelter lacks the financial possibilities of a new operation.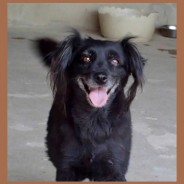 Debbie is a lovely little dog, about 9 years old, who has already spent many, many years in the shelter. She loves contact with people very much and it's such a shame that she has to live in the shelter.
Her big handicap to finding a home is, that she is Leishmaniosis positive.  Those of us who deal with this illness day by day know that it's not a big problem if a dog has this illness.  However, most of the people are afraid to take such a dog in.
For Debbie it is really a disaster, because she is desperate for a family she can give all her love too.