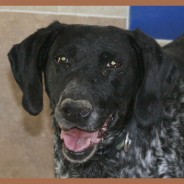 Stina is a 8 years old pointer girl. Since 5 years she is at the shelter.
Stina was found as a stray. She has a tattooed ear and a docked tail. we assume that she is purebred.
She lives already a long time at the shelter. Stina is always in action and she is in her kennel also the boss. She is good with other dogs but somewhat dominant.
Stina loves attention and tries to get attention by barking. If it is her turn she is finally happy. She loves to be cuddled.
It is hard for Stina to find a home because she is not only large, but also black! So far it has not worked, and the hopes are dwindling every year more.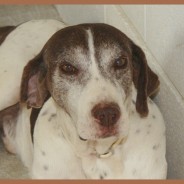 Kimy was born about 2004. He came to the shelter with his girlfriend Tofy in August 2009.
Until then, his life was perfect and he was happy in his home. With Tofy he had a good friend and he had a good family with lots of love.
Tragically, Kimy, Tofy and their owner went for a walk along the cliffs on a terrible day in the summer of 2009. The owner fell down the cliff and died from it.
After this incident everything happened very quickly. Kimy´s mum and the daughter were grief stricken, as they suffered a big loss, but their health did not allow them to continue to care for Kimy and Tofy, and so Kimy had to move, with Tofy, to the shelter.