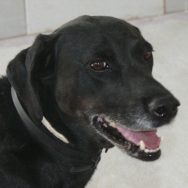 Betty lived together with her mom and her siblings in a field near Nicosia. As all dogs should be poisoned there, they were brought to a shelter. As they were found they were still puppies. After 8 years, Betty is still in the shelter.
She is still very shy, so she was always overlooked.
Betty is looking for experienced and patient people who introduce her slowly to a life outside the shelter.
Her full profile you can find here: Betty